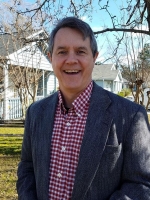 My name is Michael King, the pastor of the South Strand Community Church.
I was saved in 1987 at 24 years old. Even though I was raised in a Baptist church, I lived in rebellion. My future wife, Lisa, shared the gospel with me. That is when I trusted Jesus Christ as my lord and savior. My life began to change. I wanted Jesus more than anything. I believe that God called me into vocational Christian ministry not long after that. I graduated Columbia Bible College (now Columbia International University) in 1993 with a BA in Pastoral Ministries.
I have serve as Minister of Youth at Three Rivers Baptist Church in Irmo, SC and as Minister of Youth and Education at First Baptist Church in Surfside Beach, SC.
I continued my theological education at Southeastern Baptist Theological Seminary in Wake Forest, NC. I graduated there in 1999 with a M. Div. in Biblical Studies.
After graduating SEBTS, I moved back to Myrtle Beach to plant South Strand Community Church in 2000. It began as a Bible study in our home. Over the past nineteen years, we have met in different rented facilities as we have grown. In 2016 we began sharing the building with another existing church, Parkway Community Baptist Church. This has been very exciting for us.
Some of my favorite preachers and authors are John MacArthur, John Piper, R. C. Sproul, Jerry Bridges, and Martin Lloyd-Jones. These and others like them have influenced me greatly and have impacted my ministry, theology, and philosophy.  I also enjoy Founders Ministries.  They have influenced me as well.  I have purposely tried to follow a similar principle and philosophy of ministry of expositional preaching and sound reformed theology.